Product Filter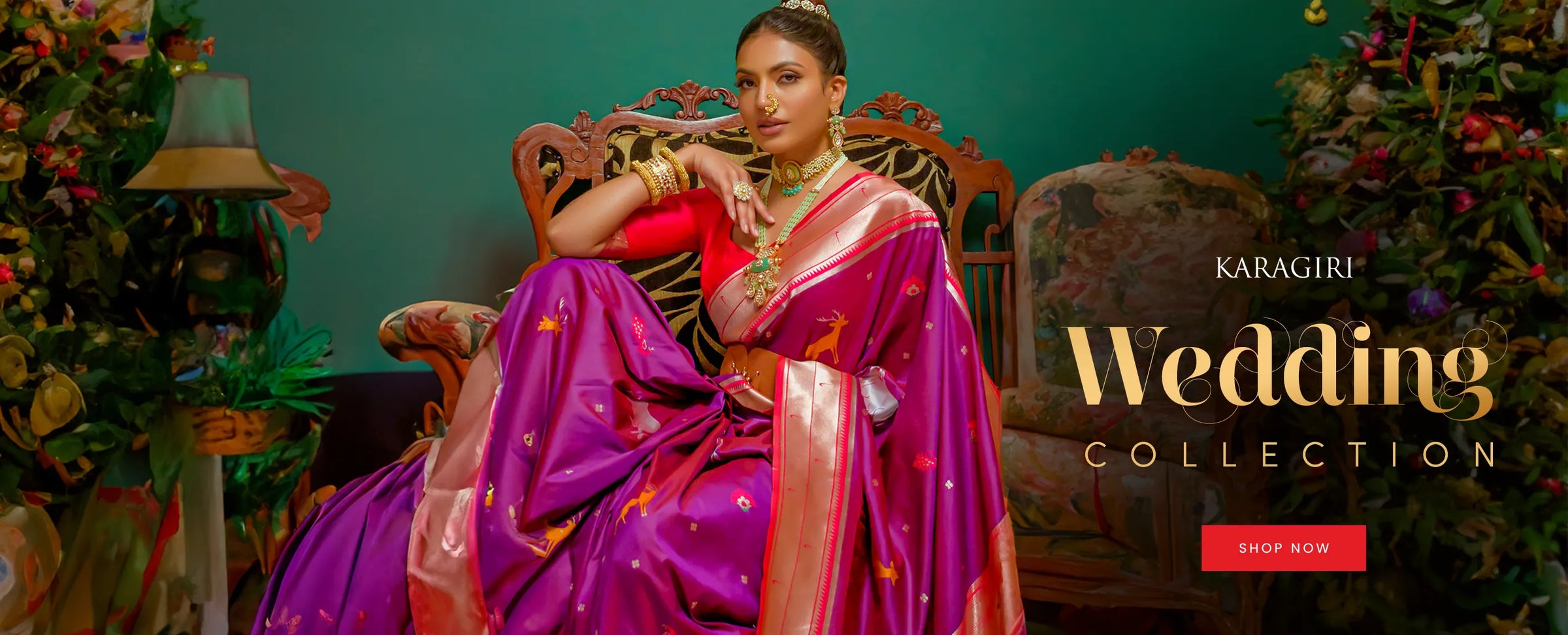 Wedding Sarees
Brides in different parts of our homeland have different attire preferences based on their cultures or the type of wedding event. From the classic yet vibrant Kanjivaram sarees for a South Indian wedding to Paithani for the brides of Maharashtra, you can find what you've been in search of only at Karagiri. Apart from the exquisite collection of wedding sarees online, Karagiri is also home to some of the most graceful sarees in which guests can make a statement. Organza, Patola, Banarasi - you name it, we have it.

Latest wedding collection by Karagiri
We at Karagiri have a beautiful collection of wedding sarees of different types.
Wedding Kanjivaram Sarees
Wedding Kanjivaram sarees have a beautiful traditional Kanjivaram design that gives them a rich traditional appeal. These sarees are the favourites of brides in the south because of the amazing colours and traditional motifs. These sarees have an alluring design that makes the sarees beautiful.
Wedding Banarasi Sarees 
Wedding Banarasi Sarees are loved by women in the central parts of India for their beautiful colours and distinct banarasi design. These sarees perfectly capture the amazing craftsmanship of the banarasi weaver. These wedding saris exude an elegance that perfectly compliments the feel of a wedding.
Wedding Patola Sarees 
Patola Sarees are the pride of Gujarat and are known for their complex geometrical designs and motifs that are similar on both sides of the saree. The sarees have a look that is unique. Women love to wear Patola Sarees for weddings for their elegant designs and beautiful colours. The amazing designs make this saree perfect for weddings.
Wedding Organza Sarees 
Wedding Organza Sarees are beautiful and lightweight making them a comfortable drape for brides today. These sarees are the perfect choice for a summer wedding for their light colours and sheer design. These sarees are perfect for weddings as they have a silk shine and are lightweight and comfortable too.
Wedding Paithani Saree 
Paithani Sarees are most popular in Maharashtra and the regions around it. These sarees are known for their colourful traditional flora and fauna motifs. The beautiful golden zari work complements the vibrant colours in the motifs of the saree. These beautiful sarees are a favourite of Maharashtrian brides for their rich fabrics and designs making them the perfect wedding sarees.
Designer bridal sarees for wedding
Brides love to wear beautiful Designer wedding sarees for their weddings as they look amazing. These sarees are specially designed for the occasion and hence are considered the best when it comes to wedding sarees. These sarees have various embellishments and different kinds of techniques that are used to create beautiful designs and create that royal appeal.
FAQs

What are the Latest wedding saree trends?
The latest trend in wedding sarees is the Wedding Organza Sarees. These beautiful sarees are the most favoured choice of brides today because of the amazing sheer organza fabric that is lightweight and has that beautiful silk shine that gives the saree its magnificent look.
Which colour is best to wear at a wedding?
It is best to go with red sarees for the wedding as red is considered auspicious in many cultures across India and brides love to wear the colour red because it is vibrant and is perfectly accentuated by the shine of the gold jewellery.
Where can I find the best wedding sarees online?
The best place to buy wedding sarees online is Karagiri, we have an amazing collection of various types of wedding sarees perfect for your special day. You can get amazing sarees for your wedding day for the best price on Karagiri.