Product Filter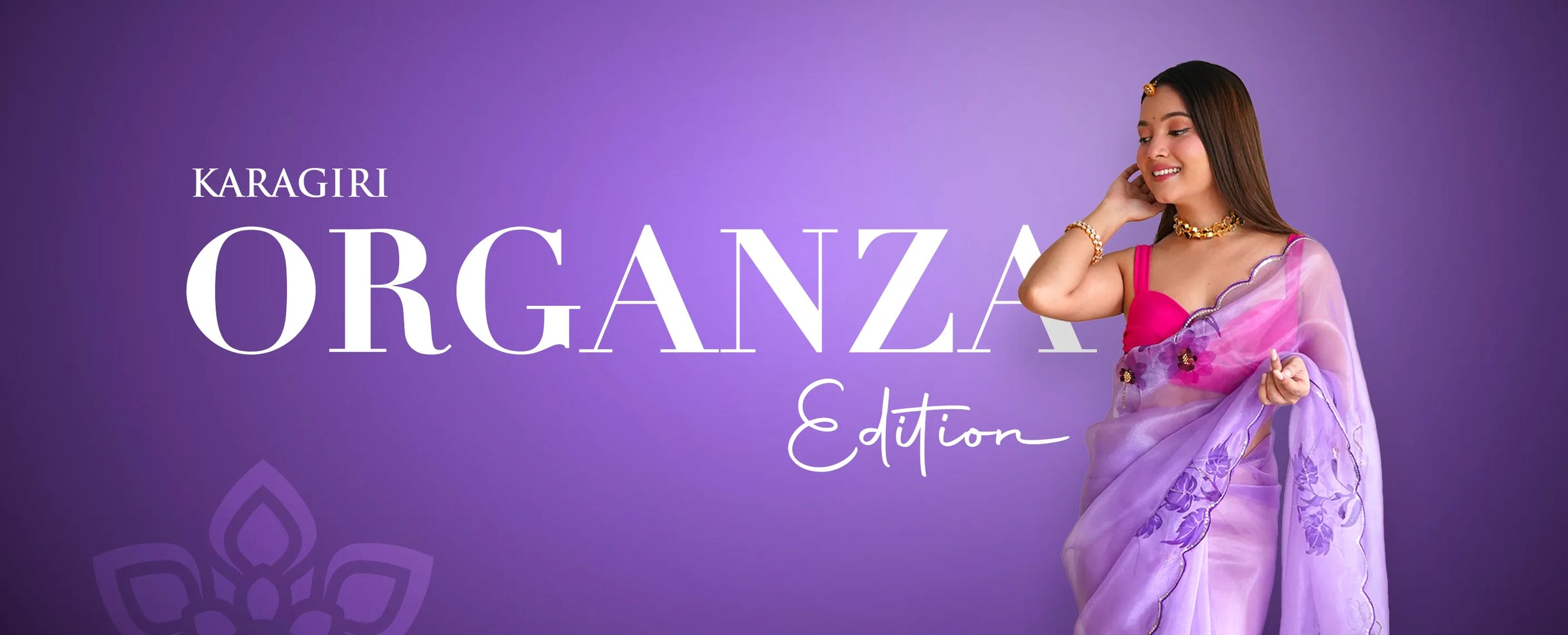 Organza Sarees
Organza sarees are slowly taking over the traditional fabrics, whether it's chiffon sarees, cotton sarees or even Banarasi sarees. Light fabric, vivid colours and contemporary patterns on these sarees make them a go-to summer attire for women. When paired with the right accessories, Organza sarees online by Karagiri certainly transform an individual into a head-turner. Check out our collection below.
Organza fabric is known to be a lightweight, sheer, plain-woven fabric that's originally made from silk. Organza can also be characterized by very small holes throughout the fabric, that is the spaces between the warp and weft thread in the plain-weave pattern. The quality of organza is defined as the number of holes per inch-more holes indicate higher quality organza. Organza is an extremely popular and widely loved sarees.
Types of Organza Sarees
Although traditional organza is made from silk, there are many other options which are available.
Plain Organza: 
The most widely known variety of organza saree, this variety is preferred by women for its lightweight fabric and beautiful light colours. These beautiful sarees are extremely comfortable and have an effortless beauty to them. These organza sarees are perfect as they can be paired with jewellery or without to create different kinds of looks.
Organza Silk: 
Considered one of the best combinations, Organza silk sarees offer a perfect blend of modern and traditional Indian styles making them a versatile choice for various kinds of events. These sarees have a beautiful silk shine along with the comfort of organza fabric. 
Printed Organza: 
Organza Sarees with floral patterns, geometric prints and motifs have become a trend of their own as they showcase the beauty of the fabric and have a delicate elegance that comes from the beautiful prints on the organza saree. Printed sarees are adored by women as they are lightweight in comparison to embroidered sarees and are cheaper yet have the same level of beauty and elegance.
Organza Cotton Sarees: 
Organza Sarees with a cotton blend have emerged from the love for organza and cotton sarees creating the perfect blend of beauty and comfort as the sarees are soft and have the sheer beauty of organza fabric too. The shine of the organza fabric and the comfort of the soft cotton makes these beautiful sarees irresistible.
Designer Organza: 
The fabric is known for its beauty and versatility and so organza sarees can be experimented with to create new styles and designs. Designer organza can range from traditional wear to having a completely different contemporary look. The different printed sarees of organza fabric have various designs that look amazing for any occasion.
Fancy Organza: 
The fancy organza sarees have elegant designs and are comfortable to wear. The comfortable fabric and beautiful designs are the perfect combinations for parties. Fancy organza sarees include printed sarees that have embellishments or can be with plain designs.
Organza sarees have been a popular choice among women who love the light and airy texture of the fabric. These sarees are perfect for both formal and casual occasions and can give you a stunning look that is sure to turn heads. Here's a look at the different types of organza sarees that you can choose from:
Embellished Organza Sarees - These sarees are adorned with sequins, beads, and stones, making them perfect for weddings and other special occasions.
Zari Organza Sarees - These sarees are made with a combination of organza and zari work, giving them a rich and luxurious look. They are ideal for festive occasions and formal events.
Embroidered Organza Sarees - These sarees are intricately embroidered with beautiful designs and patterns, making them perfect for both casual and formal events.
If you are looking to buy organza sarees online, Karagiri has a wide range of options for you to choose from. Our collection features sarees in a variety of colors and designs, so you are sure to find one that matches your taste and style. Shop now and add a touch of elegance to your wardrobe!
How to Style Organza Sarees 
Organza Sarees can be styled in many different ways. They can be styled using different techniques and accessories or they can be styled using more pleats, as more pleats mean that the fabric will expand more as it turns.
Avoid pinning the pallu of your Organza Saree as dangling pallu has a beautiful effect on the look.
The beauty of the saree lies in its colour and how the fabric compliments the delicate shades of any colour the masterfully designed sarees have a perfection that is achieved only through great attention to detail.
It is important to choose your Organza sarees carefully, if you are going for a more traditional/formal look, you can go with pastel colours like sky blue, pink, and lime green. However, for a more contemporary look for parties, dark colours like black, grey, and maroon colours are ideal. Accessories play a big part in creating your perfect look. Heavy jewellery is perfect for a more traditional look. Heavy gold jewellery 
How to maintain Organza Sarees
Only dry clean 

Do not hang the saree

Always keep the sarees folded

Store them by wrapping them in a muslin cloth

Refold the sarees from time to time to avoid tearing at the seams 


Explore Our Weave Collection
Banarasi Sarees | Paithani Saree | Kanjivaram Saree | Patola Sarees | Organza Sarees | Khaddi Banarasi Saree | South Silk Saree | Uppada Silk Saree | Maheshwari Silk Saree | Paithani Ikat Saree | Banarasi Patola Saree | Chanderi Saree
Fabric Collection
Silk Sarees | Cotton Saree | Linen Sarees | Katan Silk | Chiffon Saree | Satin Silk Saree | Georgette Saree | Satin Crepe Saree | Chikankari Saree | Tussar Silk Saree | Raw Silk Saree | Cotton Linen Saree | Dola Silk Saree | Brasso Saree
Explore Our Collection Of Printed Sarees
Printed Sarees | Kalamkari Sarees | Kantha Sarees | Ajrakh Sarees | Madhubani Sarees | Floral Print Sarees | African Print Saree
Various Colors Available On Karagiri
Green Cotton Sarees | Yellow Georgette Sarees | Red Paithani Sarees | Black Kanjivaram Sarees | Pink Kanjivaram Sarees | Multicolor Silk Sarees | Pink Cotton Sarees | Pink Chiffon Sarees | Pink Georgette Sarees | Golden Banarasi Sarees | Blue Paithani Sarees | Yellow Paithani Sarees | Blue Kanjivaram Sarees | Yellow Kanjivaram Sarees | Green Organza Sarees | Green Chiffon Sarees | Multicolor Chiffon Sarees | Pink Paithani Sarees | Blue Organza Sarees 
Explore Sarees For Every Occasion
Festive Sarees | Karwa Chauth Sarees | Diwali Sarees | Onam Sarees | Navratri Sarees | Parsi Gara Sarees | Durga Puja Sarees | Dussehra Sarees | Ganpati Sarees |  Raksha Bandhan Sarees | Chhath Puja Saree | Designer Fancy Sarees | Net Saree |  Party Wear Sarees | Indian Wedding Saree |  Plain Sarees | Bollywood Sarees | Daily Wear Sarees